Interlude is a way of life. A holistic way of being – the vision of a world we wish to create. A vision that comes deep from within.
The Core
Interlude is a way of life. A holistic way of being – the vision of a world we wish to create. A vision that comes deep from within. Endlessly creative, continuously changing and evolving, much like life itself. To fall in love with creation & fulfilling that ultimate desire to 'give' in a way that is received on a large scale. To speak truth and justice while letting the audience make informed decisions about their current way of being.
We choose to live a life of passion. Our work is not a chore, but simply a pleasure. One of happiness and joy. The potential is in everything, and everyone. To always have fun and share useful information, products and services that allow us to live a happier, healthier life. By fostering and supporting young talent we truly believe we can be the creatives of tomorrow. To teach the world about what it's like to live, to love. Love is something we give, something we share. In order to love the world, we must learn to love ourselves. Self realisation and self expression are key to a fulfilled way of living.
Interlude aims to be a business that gives back to the world. We are smart, resourceful, passionate and above all else, creative. Fame, money are often measures of success… but simply art of doing what you love and sharing it with the rest of the world is the greatest joy. Combining talent, passion and purpose we are a business that is destined for greatness.
Everybody believes they can change the world and it can be difficult to make the desired change, although with social media, you can get into the minds and hearts of every individual. With integrity and respect, we truly believe this will become a platform for humanity.
The Three Key Pillars of Interlude
Positive Change: To be the change we wish to see in the world. Lead by example. Take care of ourselves and the world through a positive movement.
Life Appreciation: To see the beauty in everything. To be present and thankful for each moment.
Endless Creativity: We are all born creatives, with wild imaginations and an insatiable desire to try. Curiosity is the core of creativity and should be practiced on a daily basis.
Logo
Droplet shape represents the body, individual, being, everything interconnected – all that we do and all that we are.
The colours encompass freedom and self expression, colours we wish to see in all humans. The colours represent each element and each concept that makes up Interlude – Earth (Documentaries), Fire (Profiles), Wind (The Gift), Water (Watch Me Grow).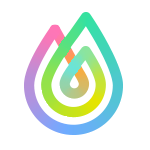 Life's Practices
To grow into the person in which we want to be, we must follow these simple practices:
Mind: Meditate. Retraining the brain. Therapeutic thinking.
Body: Exercise. Incorporate it into your day. Eat healthy, fresh food. Vegan diet if possible. Sleep, hydration, nutrition.
Spirit: Pray, nurture the soul. Create art. Connecting to deepest self. Gardening, colouring drawing, music, etc.
From there we can be the best version of ourselves and be a positive influence to those around us – We endeavour to promote these things within our work.
Ideals and Topics showcased within Interlude content
Community + Culture – Acknowledgement and documentation of the traditional people of the world. Serving and supporting our communities to thrive and help those in need.
Healthy Communication (connection) + Relationships – Love for family and those around you. Keep clear and honest channels of communication open in all friendships and relationships.
The Masculine and Feminine – Their importance of human existence, there necessity for co-existing, and how we can embody them.
Environmental + Sustainability – Permaculture. It's the future of living. Only use resources you need, aspire to a zero waste lifestyle. Give back to the Earth
Healthy consumption – Healthy living for your body and your soul. Diet, fitness and knowledge.
Technology – Focus on innovative technologies that can be integrated into our lives for a smarter, cleaner lifestyle.
Interlude can provide imagery that is fresh and inviting. Made by creatives for creatives.